Affordable Dog Boarding Kennel
Canine College, Bow Wow Resort has offered boarding and overnight stays since 1970. A lot has changed since then: old buildings have been replaced and services have expanded.
Our Pet Boarding Kennel Amenities
Climate controlled indoor living area
Private outdoor exercise pad
Front row view of the fields or woods
Fresh water at all times
A meticulously clean living space
Your dog can go inside or outside at their leisure where they can enjoy the sights, sounds, and smells of the great outdoors before retiring inside for a nap or food. Each dog will be fed early in the morning and again in the afternoon. Let us know if your canine companion has any special diets, restrictions, or medications.
*If pet owners do not provide food, it costs $1 per cup given during their stay.
Upon request, we can place your dog in a completely outdoor living or daytime area. This outdoor space is best for more active breeds that will benefit from the space to run around and enjoy the 360 degree outdoor view. Each space also features an insulated dog house and plenty of shade.
*We are not responsible for any lost or destroyed items during your dog's stay.*
PLEASE NOTE: All dogs and cats must be immunized up to date.
MEDICATIONS
With instruction from your veterinarian, we can administer any medications that your dog needs during their stay. Extra service charges apply.
PLAYTIME
Playtime is an extra service we provide to help make your dog's stay a pleasant one. We can walk, run, play or simply cuddle with your dog. We include brushing and ear cleaning as part of playtime as well. Feel free to tell us your dog's favorite game, or bring their favorite toy to the shelter that we can use!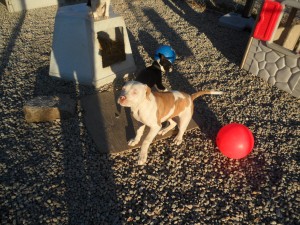 The benefits of this service include keeping your dog entertained, stimulated, and happy all day long. We believe dogs become more familiar with us and look forward to returning to a place where they have the opportunity to feel part of a pack. Dogs can also join in with daycare groups for a day of fun dog interaction and games.
Playtime is available from 1 to 4 times per day depending on the dog's needs.
DAY CARE
Day care is for dogs of all ages that need a little more attention, socialization, or interaction with people on a daily basis. Day care is also for dogs that need medication during the day while the family is at work. Day care is great for geriatric dogs that are alone for long periods of time during the day. For day care services only, dogs should be dropped off in the morning and picked up by the end of the day.