At Canine College, we strive to make sure your new puppy is well-behaved and can successfully socialize with your and your family as well as other dogs and pets. It's important to establish good habits early, which is why we've designed a Puppy Kindergarten training class that's perfect for you and your new pup!
About Our Puppy Kindergarten Class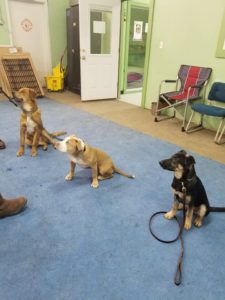 Puppy Kindergarten is a 5 week program that is formatted specifically for puppies and their families. We begin the training for puppies' ages 9 weeks to 16 weeks of age. The entire family is welcome to participate in our program.
The program is designed to prepare the puppies to become a S.T.A.R. Puppy and a Canine Good Citizen. We cover the beginner basic obedience commands on leash. Heel, sit, down, stand, come, sit stay, down stay, leave it, no jump, off, go to your place, and much more. We also discuss grooming, immunizations, food, housebreaking and crate training with you and your family so everyone can be on the same page.
The last 15 minutes of class is for the puppies to play with each other and to learn to get along with other dogs. We do use some treats as reward, but we also use verbal praise and gentle patting. Dogs on the whole really want to please the people they respect as their leaders, they just need guidance, rules and constant re-enforcement or reminders. Most importantly is that you are consistent and that all family members, and people who care for your pup are all aware of the rules and follow through. At the completion of the course your pup receives a diploma. An option to test for S.T.A.R will be given and a certificate will be awarded.
Contact us today to ask about our current rates as well as find out when the next training session begins!