Have you always envisioned your dog being well-behaved? We find that most of the time we just don't have the time or the patience to teach our dog even the most basic commands, which is why we've come up with a solution to this problem: Resident Training at our very own Holbrook MA dog training and boarding facility!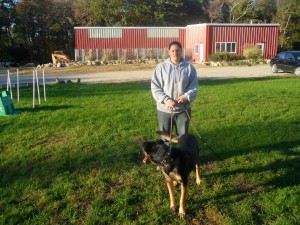 What is Resident Training?
Resident Training is our featured program designed exclusively by Canine College 45 years ago for all breeds of dogs. This is a course in which the dog is boarded with us and trained by our highly qualified staff here on campus. Your dog will be comfortable and happy during his stay. He will have his own immaculately clean area, fresh water at all times, and the option to go outdoors when needed. This course is for very busy families or for people who just do not have the time to teach their dog manners. Some dogs have serious problems that require a professional dog training instructor to solve.
About Our Resident Training Program
This is a two week program, ( we also have 1 week, 3 week and 4 week program available) and each dog is trained daily on an individual basis according to the needs of each family. Dogs are taught good behavior with all basic obedience commands including voice and hand signals with our professional instructors who focus on specific problems that are current. After one week of training the family returns to Canine College for private instruction to learn how to apply the commands, voice tones, and the use of proper hand signals that your dog has learnt while residing with us. At the end of the second week the family returns for another instruction session and at which time you take your trained dog home.
Resident Training Follow Up
A follow up private lesson is given after your dog has returned home. This is an essential feature and is included in all 2, 3 and 4 week programs. Training, Behavior Modification, Boarding, Private handling instruction and Follow-up class are included in the total package. We encourage the entire family to participate. We have a large indoor heated facility for training and housing each student. Our Instructors are A+ in their field, and have over 90 yrs. experience in training all breeds of Dogs for home companionship and competition. No problem is too large, no dog is too old to learn. Therefore "Don't deprive your dog of a College Education."
Contact us today to ask about when the next Resident Training program is starting or check out our affordable rates!
NOTE: All dogs must have current updated immunizations for all programs: Rabies, Distemper booster + CPV & Canine Cough.