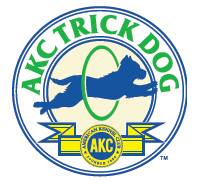 Canine College is proud to announce our latest dog training class: Trick Dog Training. Teaching your dog new tricks is always one of the most fun and exciting aspects of being a pet owner. Dog tricks are great conversation starters and can even reinforce the bond you have between each other. This aspect of owning a dog has become so popular in the last decade or so that the American Kennel Club (AKC) has adopted a series of tests and a certification of completion. Our dog training facility is composed of fully certified trainers who can help you and your dog through the Trick Dog Training course.

Important Information About Trick Dog Training
All trick dog titles earned at Canine College are awarded by the AKC and are listed on your dog's title record.  Any breed of dog can earn their Trick Dog title but must first have an AKC, PAL or AKC Canine Partners number to earn an official title. There are four different title levels to achieve, each one costs $20 for the processing fee through the AKC upon completion of each test. If applicable, more than one title can be sent to the AKC as the same time.
4 Trick Dog Titles
Novice Trick Dog. Your dog must perform 10 tricks from a specified Novice list. If your dog has earned their Canine Good Citizen badge, then they only need to perform 5 tricks to earn this title.
Intermediate Trick Dog. Your dog must first have completed and passed the Novice Trick Dog test. On top of this, they must perform 10 additional intermediate level tricks.
Advanced Trick Dog. After earning the Novice and Intermediate Trick Dog titles, your dog must then complete 5 tricks from the advanced level list.
Trick Dog Performer. Similar in style to a show-dog performance, your dog must go through a brief routine during which they perform at least 10 tricks from the previous tests.
How to Earn Trick Dog Titles
Perform the required AKC tricks in front of an AKC Approved Canine Good Citizen Evaluator. Canine College has a certified trainer to run the Trick Dog Training and Testing.
The AKC will accept Do More With Your Dog titles at the Novice, Intermediate and Advanced Trick Dog title levels. Be sure to have your Do More With Your Dog certificate with your while Trick Dog Testing.
Learn more about Trick Dog Testing by viewing the AKC Evaluator Guide.
Contact us for more information or to sign up for Trick Dog Training today.