Group Dog Training Classes
Group classes begin with a small group of handlers and dogs that are taught the basic obedience commands. You are then responsible to practice at home and return weekly for (5) five weeks. The entire family is welcome to attend and participate. The dog then learns to obey with many distractions. The courses available are Elementary, Advanced Elementary, Beyond Advanced, and Preparation for the **Canine Good Citizen Test, *** Registered Therapy Dog Testing, and Off Leash training.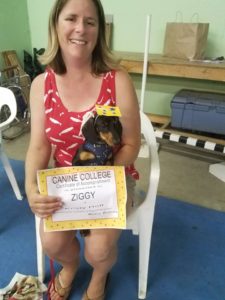 Elementary Group Class is designed for the owner and dog with little or no experience. It is the next level after Puppy Kindergarten or for dogs older than 16 weeks. During the 5 week course we will teach and reinforce the basic obedience commands. Heel, sit, down, come, come front, sit-stay, down-stay, not to pull or jump up on people or furniture. Some other issues may be Graduation Sit Stay addressed such as biting on hands or your clothing, biting the leash during walks or while training. All commands are verbal with hand signals. All classes use a positive balance of reinforcement including food, praise and play At the completion of the 5 week class we will present you with a diploma, and the option of taking * the S.T.A.R. TEST.
Elementary II is the Continuation of Elementary I. This course is for dogs who are ready to take the** Canine Good Citizen Certification. We will help you to be confident to take the test. At this time we will also reinforce all of your previous learnt obedience commands and additional Guidelines will be introduced. We can also prepare you and your dog for the ***Registered Therapy Certification for teams that would like to visit nursing homes, hospitals, schools or individual visits
Advanced Elementary is designed for owners & dogs with an objective geared towards the groundwork for off leash training. Perhaps you may have the intention of competing in AKC obedience Competition. Many owners receive enjoyment of giving their dog more freedom around the yard, in parks, taking walks or strolls in the forest and jogging.
Beyond Advanced and Off Leash Classes is for dogs that have passed their Canine Good Citizen Test, and have completed the above levels of group, private or resident training. The atmosphere is relaxed and positive, reviewing all basic obedience commands with additional activities including some agility and rally. A.K.C. obedience exercises and retrieving are also offered. Our dogs are then tested during these exercises, to maneuver through selected activities and obstacles off leash.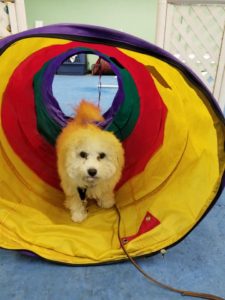 Competition Training
We specialize in training & handling for A.K.C. competition in the conformation ring, as well as obedience from Novice to Utility. Training a dog for Sch H 1 through to Sch H 111 is also a specialized program geared towards competition. Competition training involves many months of intense training, dedication and learning how to properly care, feed and condition your dog.
Aggression
Aggression and bad social skills requires a specialized field of training. Aggressive behavior towards people or other dogs is an issue that requires an evaluation to be addressed on a private level with our expertly, highly qualified Training Director who boasts over 40 years' experience. We will interview your family along with your dog and help you to decide the programs most suited for the progress of your dog.
Protection Training
This program is Breed Specific. We will train your dog to react on command or on his own when the family is away or sleeping. This course starts with obedience instruction to be able have control of your dog, and progresses to build confidence. We will teach him or her some obstacle maneuvers, and simulate many situations while responding to sounds and movements, We will train you and family to control your dog and to feel comfortable knowing your dog is always on duty.
Tracking
Another great way to have fun and teach your dog a fun skill. A Systemactic program that teaches your dog to follow the scent path of a person, retrieving and finding objects along the way. Dogs can be taught to discriminate for a variety of substances.
Fun Nose Work
Nose Work is a class for all dogs to use their strongest sense. The SENSE OF SMELL. The object of these classes is to have fun while playing games and hunting. Fun Nose Work is for dogs who need a lot of mental and physical stimulation, for dogs who enjoy individual attention, dogs who need a boost of confidence and for owners who just want to have fun with their dog. All dogs in class work one at a time. Toys & food are used as rewards.
Contact us to learn more about our training programs