Dog Boarding and Training in Nantucket, MA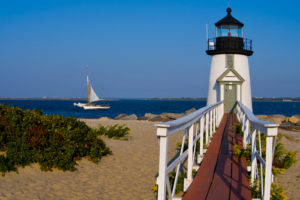 Located 30 miles from Cape Cod, just over 10,000 residents call this little island home. The island is comprised of mainly vacation homes, causing the population during the summer months to swell with tourists and returning families. Nantucket is also home to many dogs who love exploring the beaches and the surf.
For Nantucket Summer Homeowners
Having your dog stay with you on Nantucket is a wonderful opportunity for your whole family. Many families who return to their summer home however are generally out and about during the daytime hours — and these trips often don't include the family pet. Let one of our friendly staff members take care of your dog while you and your family are away for the day with pet sitting.
Want your dog to be that perfectly behaved boat dog or second mate? Canine College offers in-home dog training to Nantucket island! We can train dogs of any breed and any age to ensure that your pet is on their A-game when it's time to have visitors over or go out for a walk along a crowded beach.
For Nantucket Summer Visitors
Don't own a home on the island but love staying for a long weekend with friends or family? Choose boarding to reduce added stress by dropping your dog off at our Holbrook, MA-based dog kennel while you're gone. Your dog will be properly fed, exercised and loved while you're away. Were you already in a training program with us? We can continue the dog training while you're away as well. Simply let us know which program you are enrolled in.
Need dog training or day care on Nantucket this season? Contact us at Canine College so we can help your pet perform at their best this season!
---
Contact Canine College Today!